SURPRISE HER WITH A UNIQUE AND MEANINGFUL GIFT.
A GIFT THAT WILL ALWAYS REMIND HER HOW SPECIAL SHE IS TO YOU
Share your heartfelt message to your loved ones with this unique I LOVE YOU IN 100 LANGUAGES NECKLACE crafted with brilliant 14K WHITE GOLD OVER STAINLESS STEEL in a jewelry box with a REAL ROSE THAT LASTS UP TO THREE YEARS.
Nestled neatly in the middle of a stunning, stoned studded heart, the projection bead looks just like any other black bead. ​But it hides a special secret for only the two of you to enjoy.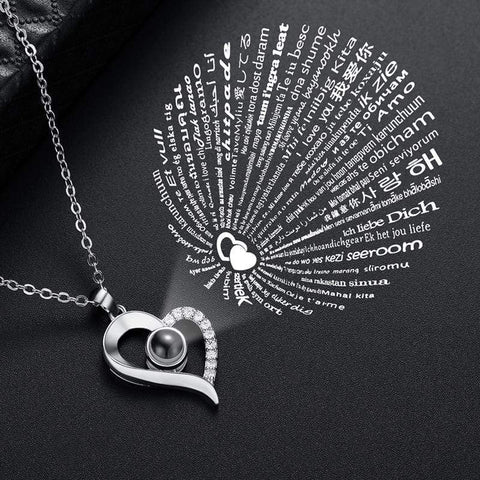 • 14k white gold over stainless steel
• Contemporary heart-shaped pendant
• Strung from a delicate link chain
• Tarnish-proof and scratch-resistant
• Minimalist and elegant design that pairs well with all outfits.
• Hides the sweetest message within the central black bead


This necklace uses nano-micro engraving technology to engrave 'I Love You' in 100 different languages in its pendant's love stone. 
FOREVER ROSE LOVE BOX
This is truly one of our most spectacular gifts. When closed, the box is sophisticated, and elegantly packaged with ribbon and bow. But there's a surprise waiting inside — a classic one. Untie the bow, open the box to reveal a single, breathtakingly fully bloomed XL red rose.
The box comes with a gift bag.
The box doubles as storage for our exquisite I love you necklace
MADE WITH 100% NATURAL ROSE
A fresh-cut rose will only look good for a few days before it withers and dies; our Forever Rose, however, will last up to three years.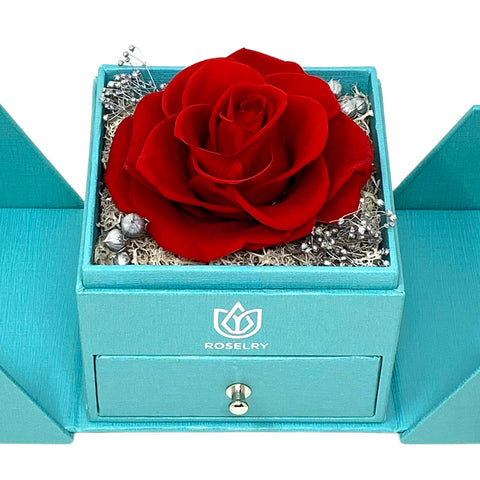 Frequently Asked Questions
How long do preserved Roses last?
Preserved Roses are long-lasting roses that will maintain their original beauty for up to three years.
How are preserved roses made?
Each unique and genuine rose is hand-chosen at the peak of perfection and then preserved to maintain each unique long-lasting flower's original natural beauty.
How do you care for preserved flowers?
For maximum beauty, keep your Roses away from extreme sunlight & humidity.
Do preserved roses need water?
These long-lasting flowers do not need to be watered.


Are Preserved Roses toxic?
Our Preserved Roses are completely environmentally friendly, and no chemicals are used. Our Preserved Roses are biologically degradable and harmless to children and pets.
DON'T WAIT!
Due to high demand, we often sell out. If you have any further questions, please email us at support@roselry.com


Product Specifications: 
Necklace:
Chain: 18 inches + 2 inches extension. 
Pendant Height: 0.7 inch, Width: 0.7 inch.
Environmentally friendly
14k white gold over stainless steel

, Lead-Free & Nickel-Free.
Features 'I Love You'  in 100 Languages engraved through nano micro carving
Fast FREE shipping!



 Rose box:
Material: Plexiglass, composite wood/paper, preserved rose flower  
Box Size: 4.3 * 3.9 * 4.3 inches
Weight 1.1  lbs
Color: Tiffany blue with a clear plexiglass
Rose Flower Size: 3 inches
Gift bag